Korean Onomatopoeia! A fun thing to add to your repertoire of Korean words to really add emphasis and feeling to your conversations. Onomatopoeias imitate a sound, feeling, or action; like "The dog barked at me as I clanked my keys".
In Korean onomatopoeia is called 의성어, you might have heard Koreans use onomatopoeia something like: "and I 'whhackkkkk' smacked him!". I actually think they are used more commonly in Korean than English. You will especially see them with storytelling, whether in person or a comic or book.

Using Korean Webtoon for Onomatopoeia Study!
If you have seen Korean webtoons you'll see the comics full of different sounds and actions written out. Sadly most official translations either try to translate them into English or just remove them entirely, but reading in Korean or even some fan-translations still keep them in and can be a valuable resource for this!
Even if you don't know much about webtoons, you might already recognize some comics as many have been adapted into shows such as Sweet Home, What's Wrong With Secretary Kim?, Yumi's Cells, All Of Us Are Dead, and more. The main feature of webtoons are that they are formatted to be read on a phone, instead of turning the pages you scroll through.
Quick Recommendations
I'll go through a couple ones I like from different genres so you can have a starting point to go off of!
Yumi's Cells (유미의 세포들) (romance, slice of life): Follows Yumi through romance and work life with her 'cells' in her body with dedicated personalities and roles.
A Returner's Magic Should Be Special (귀환자의 마법은 특별해야 합니다) (action, fantasy): Desir is one of the last surviving people fighting to live but suddenly travels back to his magical highschool; with his knowledge of the future he tries to gather his comrades and change the future.
See you in 19th Life (

이번 생도 잘 부탁해

) (romance, fantasy): Jieum is cursed/blessed to always remember her past lives, when her 18th life is cut short she sets out to reconnect with her lost love from her 18th life.
Like a Butterfly (

나빌레라

) (drama, heart-warming): A 70 aged man decides it's never too late and tries to follow his childhood dream; learn ballet! With a teacher under half his age he tries to push through his bodies limitations.
Ghost Teller (

귀전구담

)  (horror/thriller): Korean ghosts and ghouls gather to tell their own stories of why humans are so terrifying.
How to Become a Dragon (합격시켜주세용) (period-kinda, fantasy): Imoogi train for years to become a dragon but if a human interrupts the ascension they will fail and curse the humans lineage. Now imoogi Bari has a second chance- but must learn about humans with the descendant of the one he cursed!
Some platforms include Naver Webtoon, Kakao Webtoon, and Lezhin Comics. Naver and Lezhin offer English and other languages, but remember they will translate the onomatopoeia too.
Animal Sounds In Korean
멍멍: barking (dog sound)
꿀꿀: oink (pig sound)
야옹: meow (cat sound)
음매: moo (cow sound)
매애: baa (sheep sound)
찍찍: mouse's squeak
훨훨: flutter flutter (butterfly/bird flying sound)
윙윙: buzzing (bee/fly/flying insect sound)
짹짹: chirp/tweet (bird sound)
까악: crow's caw
꽥꽥: quack (duck sound)
꽤액: goose's honk
개굴: ribbit/croak (frog sound)
Sound Effect Onomatopoeia
쾅: bang
쿵: heavy thud
쾅: crash
칙칙폭폭: chugga chugga choo choo (train sound)
똑똑: knock knock
반짝반짝: sparkle/twinkle
펑: poof
싱: zoom
따르릉 따르릉: ring ring
부릉부릉: car engine vroom vroom
모락모락: smoke/steam
우르릉: rumble of thunder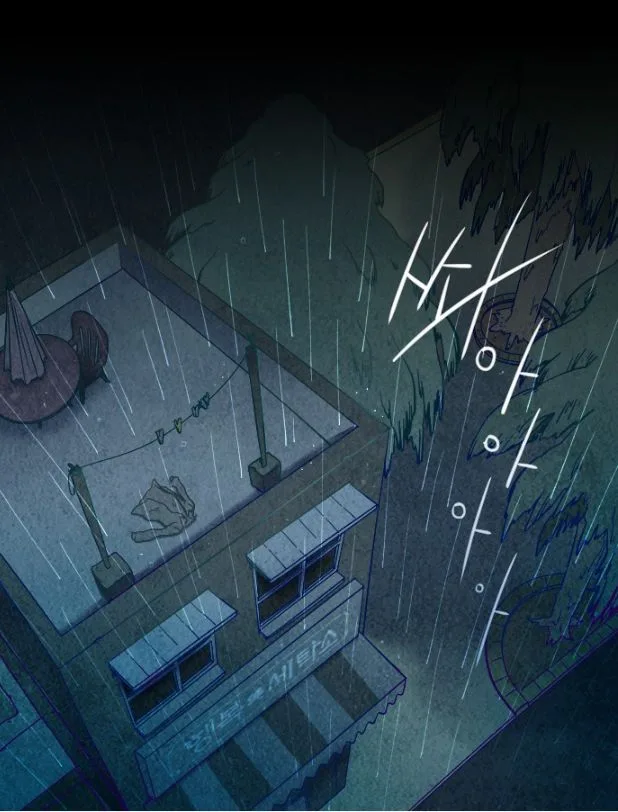 Ghost Teller – 쏴아아아아: rain pouring down
Water
쏴: rain pouring down
쏴쏴: the sound of spraying water
주르륵: the sound of water dripping
철벅철벅: splash
주르르: trickle
부글부글: bubbling/boiling
어푸어푸: spitting water out of your mouth
풍덩: splash when jumping into water
철썩: splashing back and forth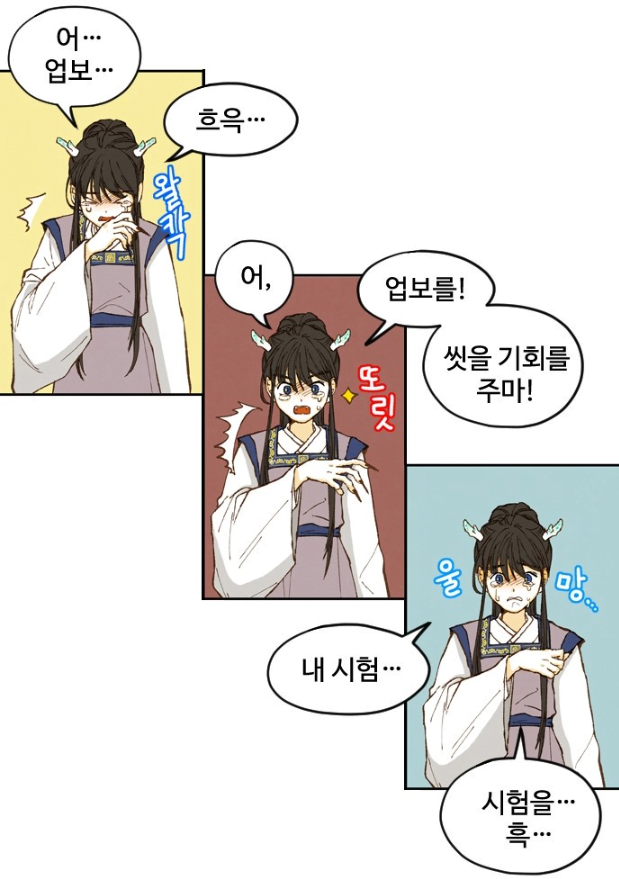 How to Become a Dragon – 왈칵: sobbing 또릿: ahem! 울망: tearing up
Action Onomatopoeia
킁킁: sniff
에취: achoo
콜록콜록: cough cough
켁켁: choking
앗: oops
음: ummm…
또릿: ahem!
깍꿍: peekaboo
흑흑 / 훌쩍훌쩍: crying
왈칵: sobbing
울망: tearing up/about to cry at any moment
메롱: sticking your tongue out
뽀뽀: kiss/smooch
얌냠: om nom nom
두근두근: heartbeat
우웩: vomiting bleeh
응애응애: baby crying
보들보들: soft/cuddly
뒤 뚱뒤뚱: waddle
Also note that some words are of course written more with emphasis; just like in the example for Ghost Teller 쏴아 becomes 쏴아아아아아. And depending on the layout of the comic words could get split apart something like this: 빠 – 방. But really, this is just a starting point and there are a ton of different ones out there, so you'll develop a feel for them as you see them more.